How to Teach Your Child Gratitude
When Erin Bried and her then 5-year-old daughter went looking for a cool magazine to read together and couldn't find one they loved, they decided to make their own. Kazoo is a quarterly print magazine that celebrates girls for all that they are—smart, inquisitive, creative, brave, strong and, yes, loud.
Below, Erin shares some simple tips for raising happy kids who know how to express what they're #GratefulFor.
It's every parent's dream to raise a child who says "thank you"—you know, without being prodded—but teaching your kid to express gratitude is about more than just teaching them good manners. It's about teaching them how to find happiness. Piles of research show that people who practice gratitude feel more hopeful, more optimistic, and more satisfied. Grateful kids make friends more easily, are more open to trying new things, and are more flexible. Here are five tricks to try for raising a kid who is deep-down grateful. 
Start a new bedtime ritual
Every night after we read a book and before we kiss goodnight, my 6-year-old daughter and I do an exercise we call "Five Things," where we list five things we're most grateful for about our day. The list ranges from little to big: "S'mores!" to "my bike" to "my family." Sometimes, on particularly sleepy nights, she just names five people she loves. Research shows that counting your blessings improves not only your well-being, but also your sleep, and it's so true. There's no better way than to end the night by focusing on the very best parts of our days—and lives.
Make a media plan
Screen time can certainly be a lifesaver for busy or tired parents, and I'm an especially big fan of it at 6:30 AM on Saturday mornings when my kids insist that because they're awake, everyone else should be too. But too much screen time can be a gratitude sapper. Commercials are designed to make our previously contented children feel like they have Hatchimal-shaped holes in their hearts. The solution is a no-brainer: Limit screen time, and opt for movies or ad-free streaming videos whenever possible.
Pick up a crayon
When children write down what they're grateful for, they feel not only happier in life, but are also more satisfied with their experiences in school, according to a study in the Journal of School Psychology. If your child doesn't like to write, try making it into an art project instead: The next time she asks you what to draw, give her gratitude prompts: a beautiful place in nature, someone she loves, an activity that makes her feel strong—and excited. Then, talk about her picture and hang her work on the fridge as a simple reminder of something good.
Get goosebumps together
Catch snowflakes on your mittens and stare at them up close. Watch the sunset. Admire the way trees sway in the wind. Bundle up on a freezing cold night just to look at the stars together. Seek out experiences, even just fleeting ones, that inspire wonder and awe. Research shows that these goosebump-moments help us focus less on ourselves and more on our interconnectedness with each other. After all, it's hard to ponder the vastness of the sky, and simultaneously feel like your life won't be complete without a plastic Shopkins figurine.
Play the long game
Cultivating gratitude takes time and effort, because it really goes against our most basic survival instincts. We're hardwired to pay attention to the bad stuff in our lives so that if it poses a threat to us, we can react to it quickly. The trouble is, sometimes even tiny bad things, like a broken toy, or a canceled playdate, can suck up so much of your child's attention that she stops being able to see the good stuff. It's a lot to ask her to feel gratitude all the time, especially when it's hard for us as adults to do the same. (Imagine if someone told you, as you were sitting in a traffic jam, to be thankful that you even have a car.) Be patient. Be positive. And keep returning to what's good, because there's really so much to be thankful for, if you just pay attention to it.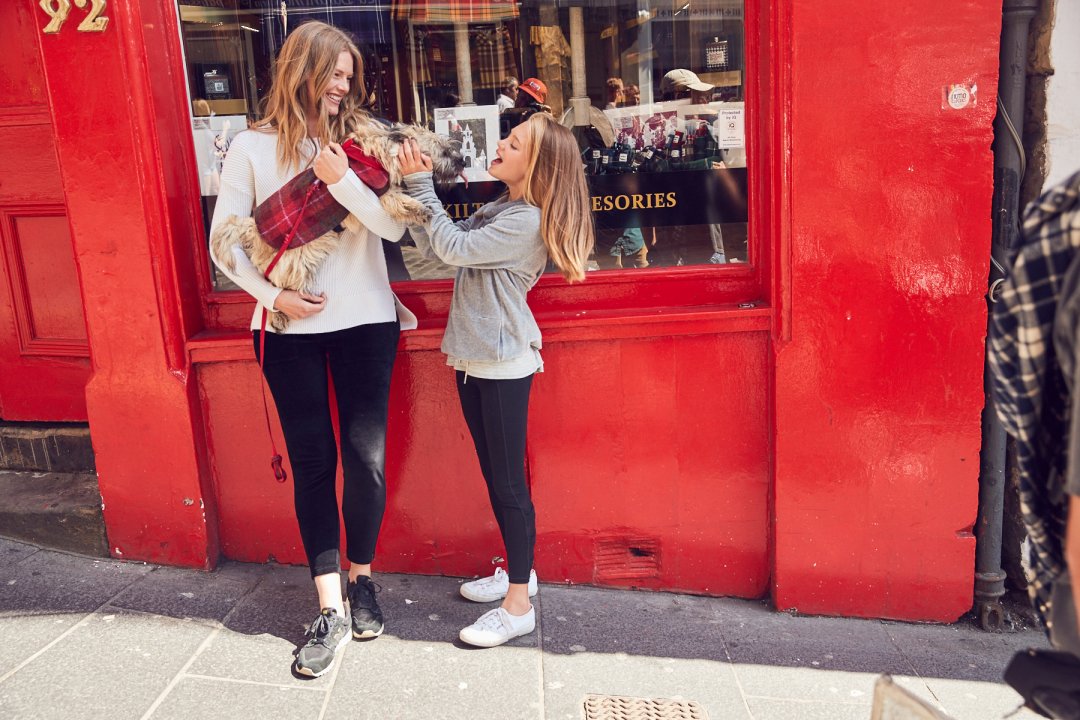 In Athleta stores nationwide, we've got another fun way to practice showing thankfulness. Bring your daughter in November 27th–December 22nd to learn how to make Gratitude Graffiti—a community collage of all the things we're #GratefulFor. Want to get to know Kazoo magazine better? Get the winter issue as a gift with purchase from Black Friday (November 24th) through Cyber Monday (November 27th), in-stores only.