The Trekkie Pant Goes to Costa Rica
We caught up with Candy and Crystal from Travel Pockets, two sisters traveling the world in style. Below they share their experience in Costa Rica and what it was like wearing our bestselling Trekkie pants.
When we booked our trip to Costa Rica, we were so excited to explore the hiking trails and waterfalls that were going to be right at our doorstep. We went during the beginning of the wet season which meant that temperatures were going to be very warm, high humidity, and possible rain showers. Building a wardrobe that worked with the weather without putting a damper on our activities was a priority.
We knew we had to pack the Trekkie because it was everything we were looking for.
The fabric is super lightweight, which makes it great for packing. It wicks and breathes, which means sweat can travel through the fabric and not stay trapped inside. It's rated UPF 50+, which tends to be better than applying sunscreen. And lastly, pockets! We especially prefer pockets with zippers to secure our belongings because as women, we carry a lot of belongings and really benefit from this added convenience.
We were immediately drawn to the Trekkie Jogger's tapered leg since we like to have our pants fitted from the knee down. The elastic on the bottom hem makes it easy to pull the pants up, the fit is amazing, but what really makes these joggers fantastic are the specs: super lightweight, breathable, 2-way stretch, and made from tough recycled nylon.
It gives a flattering look and makes the legs appear longer.
We also love the cropped-pants-trend so the Trekkie Crop was perfect for our adventure. Having that reinforced threading makes these pants resistant to tearing and ripping, making it an instant game changer. We paired this look with the lightweight and airy Knot Zephyr Tank. It was pretty humid in Costa Rica so it was nice to feel some of the breeze through the loose-fitted tank.
We loved that the Trekkie's had plenty of pockets, were lightweight, easy to move around in, and were also made from recycled nylon.
Since our hikes ended near waterfalls and knew we wanted to swim after, our outfits were an excellent choice that allowed us to do it all without having to carry extra clothes.
Trekkie's go really well with all of Athleta's swimwear.
What's great about the swimwear is that it actually stays put and is not made just to sunbathe in. Their swimwear is designed for the adventurous woman, making it possible to do activities. The Marrakesh Twisted Bandeau came with adjustable and removable straps — great for hiking and sunbathing without tan lines. And the high waisted bottom is the exact style Candy had been looking for.
The Aqualuxe Print Molded Bikini is so cute and functional for all outdoor activities. Crystal usually gets uncomfortable in bikini tops after wearing it for a long period of time, but the shape of the yoga-inspired back made it very comfortable to move around in.
Athleta designed the perfect clothes for our Costa Rica adventures and we were really impressed with all our outfits.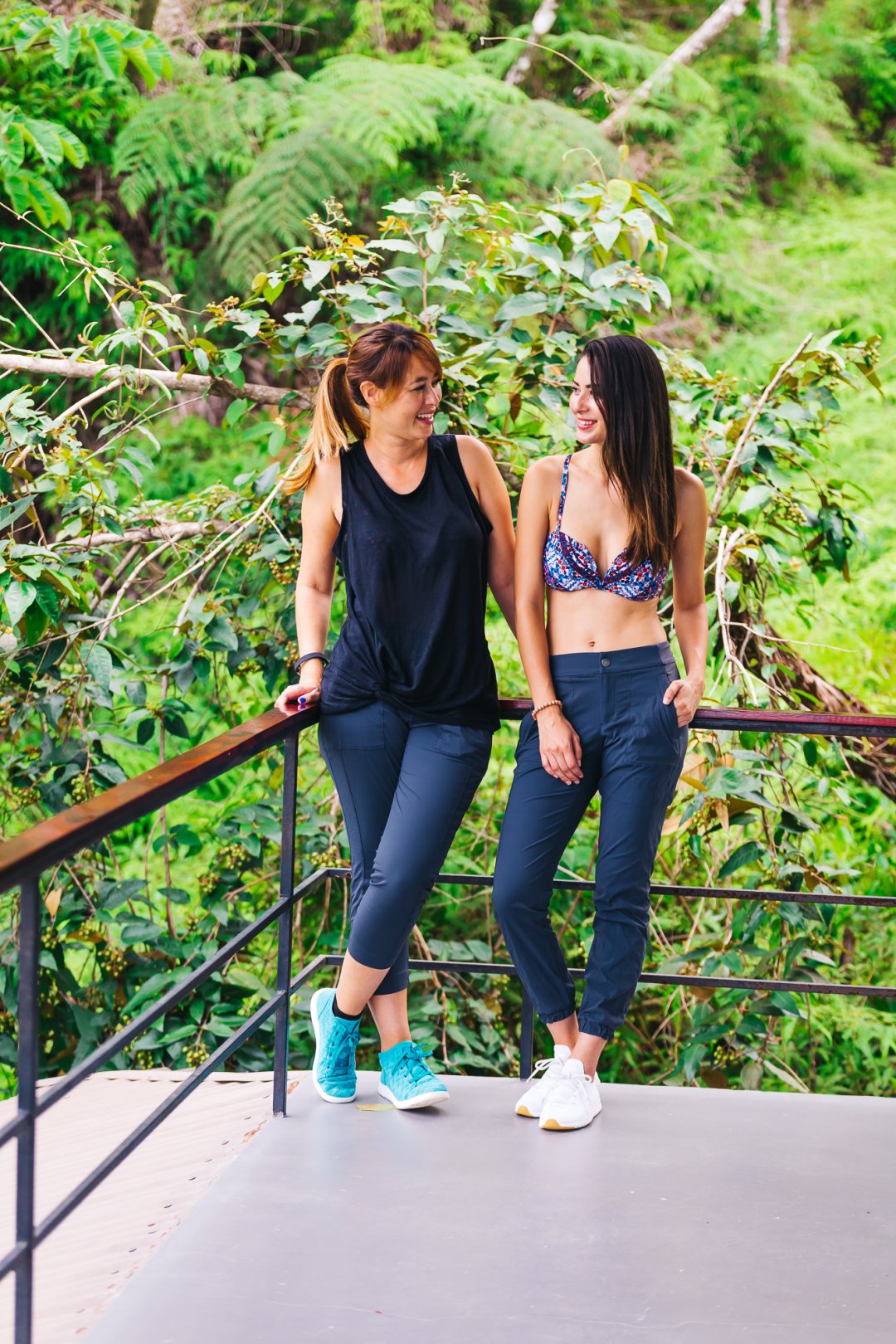 Loved all their looks? Shop now and make sure to follow Travel Pockets on Facebook, Instagram and Twitter.