How To Wear Linen This Spring
We looked to one of our favorite stylists, Alex Merrell, to create three chic outfits with our soft, comfortable, and breathable linen collection.
With Springtime officially upon us, it's time to break out the linen!
I am loving how the new silhouettes and prints of this season's linen have allowed me to create some unexpected styling combinations while still catering to my minimalist nature. I wanted to highlight the versatility of these linen pieces by creating outfits that would be useful on multiple occasions — being cute and comfy while running errands, getting a bit dolled up for some springtime activities, and casually mixing prints for everything else your day has in store for you.
Look 1: Running Around Town
When I make a plan to run errands, I know I am going to be out for the majority of the day. I want to look cute given that I'll be hopping into multiple stores and running into who knows who, but I also need an element of comfort.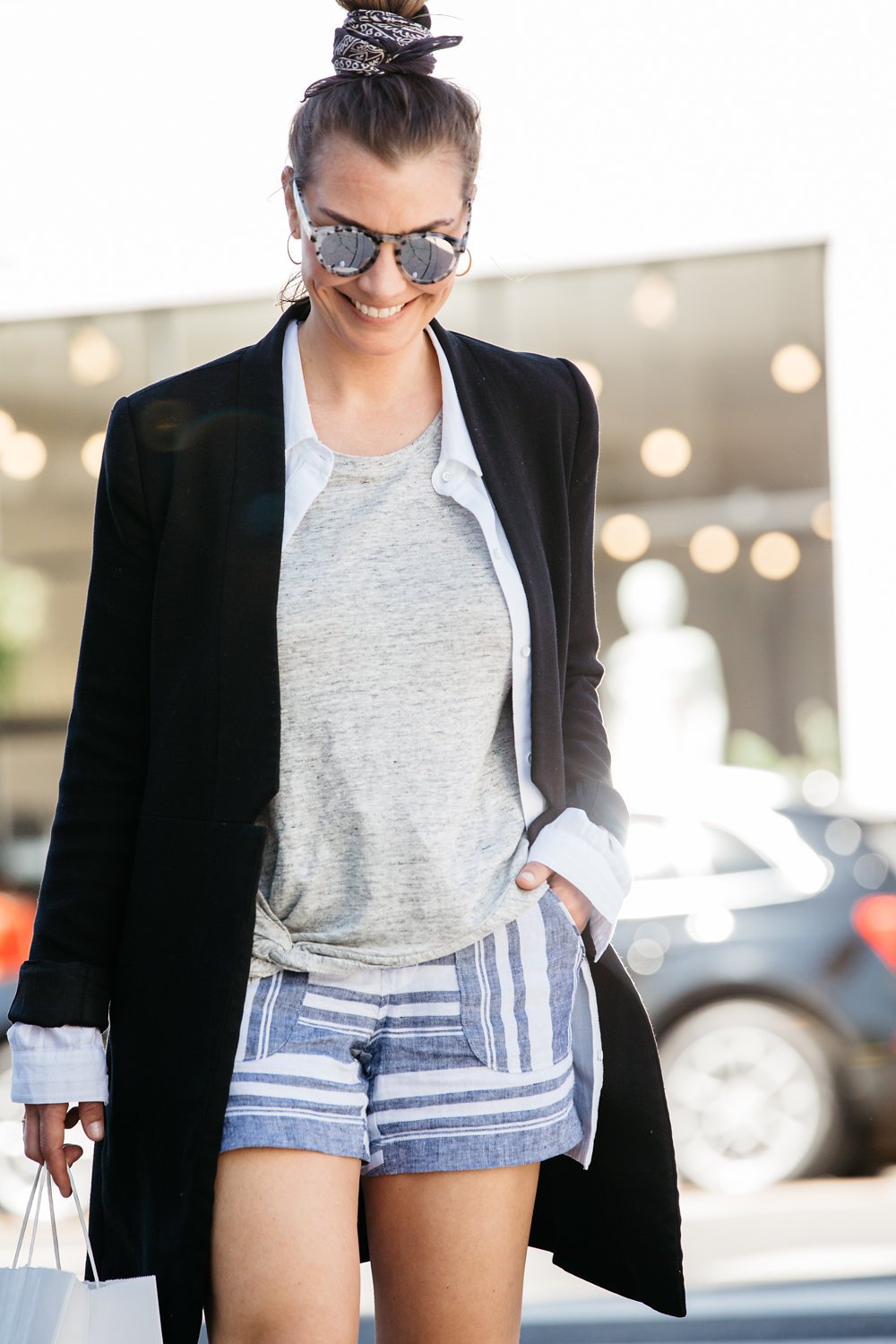 The Knot Zephry Tank and AP Mercury Liteknit sneakers by Native provide the amount of comfort I am looking for. To create the cute factor, the pattern of the Bold Stripe Linen Short is the perfect addition. These paired with the addition of some layers and simple accessories ties everything together. For the portion of my day that I am running around in the morning, when the weather is cooler, I layer up with the Peninsula Top 2.0 and my favorite light weight coat. As
the day gets warmer, I can easily remove my coat. If the day gets warmer still, I can simply tie the shirt around my waist and my outfit is comfy and cute at the same time. The scarf tied up in my hair and my gold hoops add a couple more interesting elements to the tank & shorts look.
Look 2: Getting Dolled Up
Springtime is filled with events such as bridal showers, baby showers and the like. The Linen Pant in white, with its relaxed fit, is my go-to when dressing up for such occasions.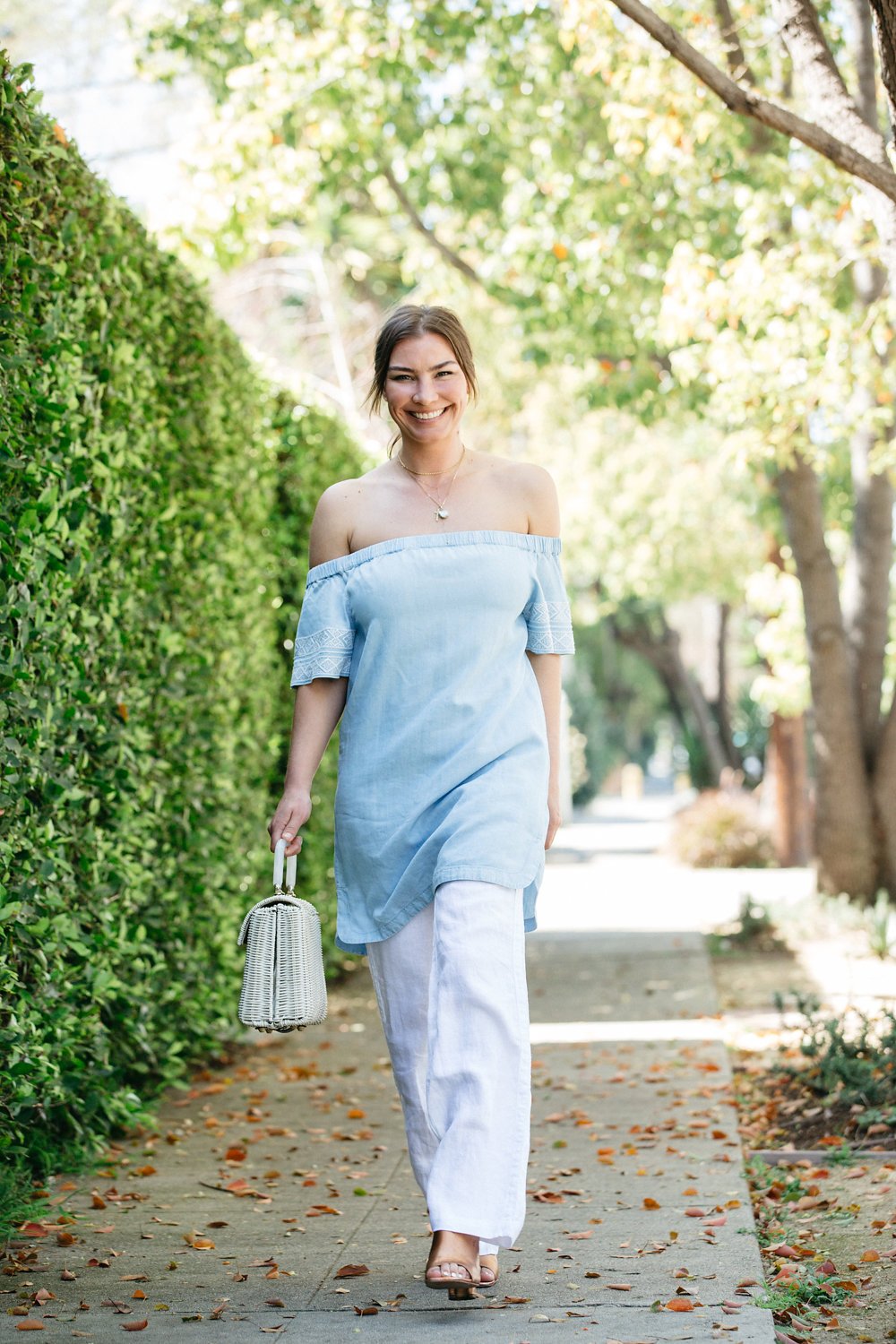 Wearing a dress over pants may seem a little bit unexpected, but it's worth trying out if you're feeling experimental. I love how the relaxed fit of the pants accents the flow of the Chambray Riviera dress. And considering I am more of a pants type of girl, pairing the two allows for some femininity in my otherwise more tomboy style. These linen pants are also the perfect length for pairing with a slight heel. If you're not feeling all that experimental, these pants can also be paired with a flowy blouse to accomplish a similar look. I would suggest something in the same color story to keep the look feeling spring-like.
Look 3: Mix & Match Your Day
To offset my more minimalist nature, mixing subtle prints is how I keep things a bit more exciting for every other day to day outfit. The Stripe Peninsula Top 2.0 and Herringbone Stripe Linen Ankle pant are ideal for print mixing.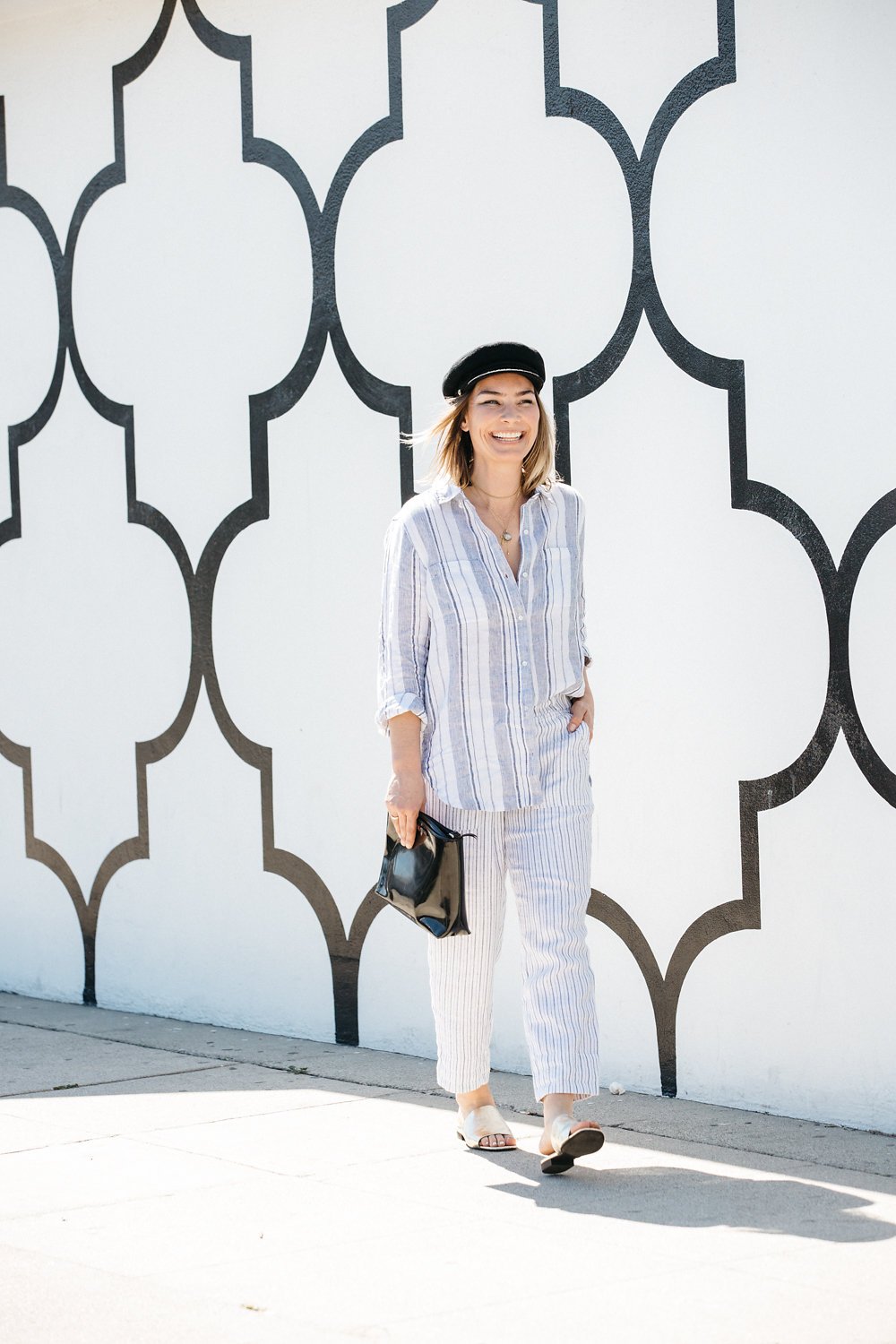 Besides the fact that the herringbone print is one of my favorites, I am really digging the new silhouette of the ankle pant. The way it tapers down to the ankle makes them extremely versatile. You can wear them straight or you can roll up the bottoms. And when you pair them with this linen top, you have a full look of this amazingly soft linen. I slipped on a pair of gold slides and my go-to fisherman's cap just to add a little bit more character to my look. Layering a few gold necklaces also helps tie in my gold slides and elevates my whole look. This outfit really shows how a top to bottom linen look can be simple yet elevated at the same time.
By bringing together a few basics and some fun accessories, these linen pieces can be a lifesaver when it comes to your last minute wardrobe-woes. It's perfect for a day of running errands, getting dolled up for springtime occasions, and everything else your days bring!