Win an Eco Adventure to Mexico!
For us here at Athleta, love for travel and love for the planet go hand-in-hand.
That's why, along with Women's Quest and Polygiene, we're hosting an eco-adventure trip contest and sending three lucky winners and a guest of their choice on an all-expenses paid trip for five days and four nights to two beautiful spots in Baja California, Mexico. Enjoy nature with daily beach yoga, snorkeling, surfing, stand up paddle boarding, hiking and more!
Here's the itinerary:
2 nights in Todos Santos
The Los Colibris Hotel is a paradise for nature lovers. Practice sun salutations while taking in stunning ocean views, learn to surf in the warm waters of the Pacific Ocean, and more.
2 nights Glamping on Isla Espiritu
Nights will be spent in luxurious safari-style tents on the beach, while days will include a variety of activities to choose from like snorkeling, stand up paddle boarding, kayaking alongside marine life, hiking, and more. The island is a UNESCO World Heritage Site featuring towering cliffs, lava rock formations and ancient rock art. This island is also home to 39% of the world's total number of marine mammal species and 891 fish species. Beachside happy hour and a traditional Mexican cuisine cooking class will be offered with the island's renowned chef-in-residence.
What's a dream trip without an experienced leader? Women's Quest founder, Colleen Cannon is a world-famous triathlon champion who's lead outdoor adventures with her company for 25 years. Created specifically for women, her adventurous retreats are designed to re-energize your body, refresh your spirit, and ignite your mind. Colleen ensures: "You'll leave with your biggest smile ever, and the tools to keep it there."
Don't worry about what to pack. We'll have you covered, literally, with an outfit for every activity, and mix-and-match options that pack well and travel light.
Also included will be some of our Unstinkable styles, made with fabric formulated by the contest's co-sponsor, Polygiene, that you can wear more and wash less to save on packing space and saving water – which is great for our planet!
Hover over the image below to shop some of our getaway essentials!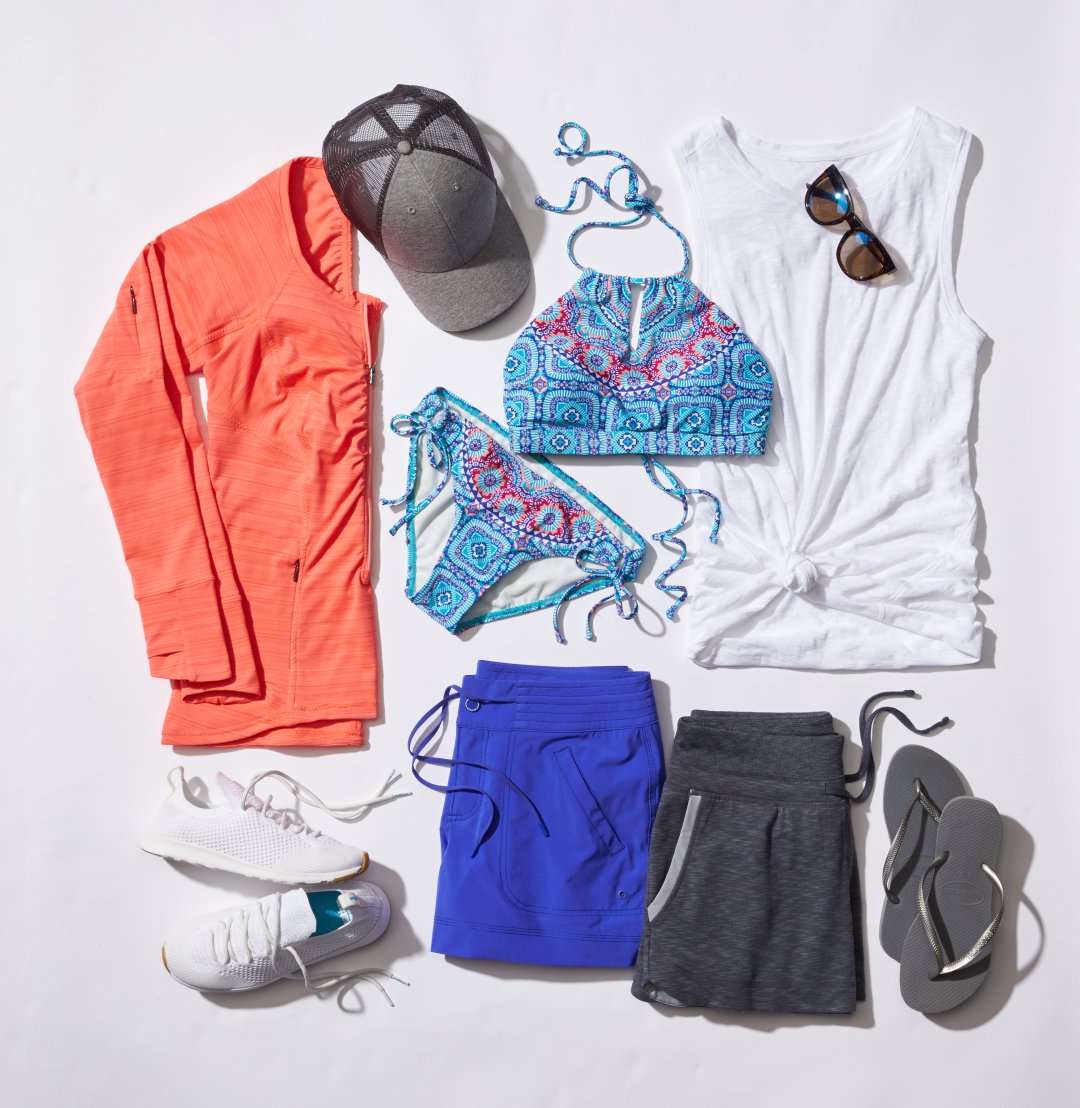 Ready to enter?
Post a photo on Instagram of you and a friend on an outdoor adventure between March 21 and April 24, 2017
Use the hashtag #ATHLETACONTEST
Entries will be judged on creativity, quality, and passion for the outdoors
Important details:
Make sure your profile is set to public, so that we can see your post
Three winners will each get to invite 1 friend on an all-expense paid 5 days, 4 nights trip to Baja California, Mexico
See below for complete contest rules
Read more about Polygiene here.
Read more about Women's Quest here.
.
.
.
.
.
.
.
.
.
.

OFFICIAL RULES
Athleta Eco-Adventure Contest
NO PURCHASE NECESSARY. A PURCHASE OR PAYMENT OF ANY KIND WILL NOT INCREASE YOUR CHANCES OF WINNING.
1. Eligibility:
Athleta Eco-Adventure Contest (the "Contest") is open only to legal residents of the fifty (50) United States and the District of Columbia who are at least eighteen (18) years old at the time of entry and has a passport that will permit travel to Mexico in June – July 2017 as of May 1, 2017. Employees of Gap, Inc., Polygiene, Inc., Women's Quest, Inc. HelloWorld, Inc., and any of their parent and affiliate companies as well as the immediate family (spouse, parents, siblings and children) and household members of each such employee are not eligible. The Contest is subject to all applicable federal, state, and local laws and regulations and is void where prohibited.
2. Sponsor: Gap, Inc., 2 Folsom Street, San Francisco, CA 94105. Administrator: HelloWorld, Inc., 3000 Town Center, Floor 21, Southfield, MI 48075.
3. Agreement to Official Rules:
Participation in this Contest constitutes entrant's full and unconditional agreement to these Official Rules and Sponsor's and Administrator's decisions, which are final and binding in all matters related to this Contest. Winning a prize is contingent upon fulfilling all requirements set forth herein.
4. Timing:
The Contest begins on March 21, 2017 at 12:00 a.m. Eastern Time ("ET") and ends on April 24, 2017 at 11:59 p.m. ET (the "Contest Period"). Instagram's servers are the official time-keeping device for the Contest.
5. How to Enter:
To participate you must have an account on Instagram. Instagram Accounts are free, but subject its terms: www.instagram.com/about/legal/terms/. Your account settings must be set to "unprotected" and/or "public" in order for your posts to be viewable by Sponsor and its agents. Posting on Instagram requires a mobile device and therefore message and data rates may apply.
During the Contest Period, post a photo on Instagram of you and a friend having an outdoor adventure and include the hashtag #athletacontest.
Your photo will be referred to as your submission ("Submission"). Your Submission need not include any reference, positive or negative, to Sponsor's products or services. By posting your Submission, you agree that it conforms to the guidelines, permissions, and content restrictions below and that Sponsor, in its sole discretion, may disqualify you if it believes that it fails to conform.
Guidelines:
·The Submission content must be consistent with Instagram's format and size requirements;
·The Submission must include the required hashtag (#athletacontest); and
·Any text included in the Submission must be in English.
Permissions:
Entrant must have permission from the Friend who is tagged and from any recognizable individuals who appear in the Submission to use their names and likenesses in the Submission and to grant the rights set forth herein. Minors may only be included in the Submission if entrant is their parent or legal guardian. If requested, entrant must be able to provide such permissions or proof in a form acceptable to Sponsor.
Content Restrictions:
·The Submission must not contain material that violates or infringes another's rights, including but not limited to privacy, publicity or intellectual property rights, or that constitutes copyright infringement;
·The Submission must not feature brand names or trademarks other than those owned by Sponsor, which entrant has a limited license to use in his/her Submission in this Contest;
·The Submission must not disparage Sponsor or any other person or party;
·The Submission must not contain material that is inappropriate, offensive, indecent, obscene, tortious, defamatory, slanderous or libelous;
·The Submission must not contain material that promotes bigotry, racism, hatred or harm against any group or individual or promotes discrimination based on race, gender, religion, nationality, disability, sexual orientation, or age; and
·The Submission must not contain material that is unlawful, in violation of, or contrary to the laws or regulations in any state where Submission is created.
Limit:
Each entrant may post one (1) Submission during the Contest Period. Submissions received from any person or email address in excess of the stated limit will be void. Submissions generated by script, macro or other automated means are void. Multiple entrants are not permitted to share the same Instagram Account. Any attempt by any entrant to obtain more than the stated number of entries by using multiple/different Instagram Accounts, identities, registrations and logins, or any other methods will void that entrant's entries and that entrant may be disqualified. In the event of a dispute as to any registration, the authorized account holder of the Instagram Account used to register will be deemed to be the entrant. The "authorized account holder" is the natural person assigned an email address by an Internet access provider, online service provider or other organization responsible for assigning email addresses used to create the Instagram Account. The potential winners may be required to show proof of being the authorized account holders. Released Parties (as defined in Section 10, below) are not responsible for lost, late, stolen, damaged, incomplete, invalid, un-intelligible, garbled, delayed, or misdirected Submissions; all of which will be void.
6. Sponsor's Use of Submissions:
Uploading a Submission constitutes entrant's consent to give Sponsor a royalty-free, irrevocable, perpetual, non-exclusive license to use, reproduce, modify, publish, create derivative works from, and display such submissions in whole or in part, on a worldwide basis, and to incorporate it into other works, in any form, media or technology now known or later developed, including for promotional or marketing purposes. If requested, entrant will sign any documentation that may be required for Sponsor or its designees to make use of the non-exclusive rights entrant is granting to use the Submission.
7. Winner Determination:
After the Contest Period, a panel of qualified judges determined by Sponsor in its sole discretion will select the three (3) entrants with the highest-scoring Submissions (the "potential winners") from among all eligible Submissions based on the following criteria ("Judging Criteria"):
·Creativity/Originality (33%);
·Quality of Submission (33%); and
·Submission demonstrates passion and inspiration for the outdoors (34%)
In the event of a tie, the entrant whose Submission received the highest score for Quality, as determined by the qualified judges, in their sole discretion, will be deemed the applicable potential winner from among the tied entrants. Sponsor reserves the right to select fewer than three (3) potential winners, if, in its sole discretion, it does not receive a sufficient number of eligible and qualified Submissions. Sponsor will not disclose judging scores.
8. Winner Requirements:
Potential winners will be notified through Instagram by @athleta on or around May 8, 2017. Each potential Grand Prize winner (parent/legal guardian if a minor in his/her state of residence) will be required to sign and return a Declaration of Compliance, Liability Waiver and, where not prohibited, a Publicity Release ("Declaration") as well as provide apparel selection and size information, which must be received by Administrator within three (3) days of the date notice or attempted notice is sent, in order to claim his/her prize. Winner must be able to travel to Mexico in June 28, – July 2, 2017 in order to accept the Grand Prize. There is inherent risk associated with some of the activities offered during the Eco-Adventure. Winner and travel companion may be required to wear protective gear and by accepting this trip prize, will be accepting these risks. Sponsor and its agents will video and photograph and otherwise record aspects of the Eco Adventure. ("Prize Footage"). Accordingly, Winners and guests will be required to wear Athleta apparel during the day while participating in activities. Winner and travel companion will be required to sign additional liability waivers upon arrival at prize location(s) in Mexico. If a potential winner cannot be contacted, fails to execute and return the Declaration and any other requested information within the required time period, or does not comply with these Official Rules, potential winner forfeits the prize. If a potential winner is disqualified for any reason, the prize may be awarded to a runner-up, if any, in Sponsor's sole discretion. Only three (3) alternate winners may be determined, after which the applicable prize will remain un-awarded.
9. Prizes:
THREE (3) GRAND PRIZES: A trip for winner and one female guest who is at least 18 years of age for a Eco-Adventure trip to Baja California, Mexico June 28 – July 2, 2017. Trip package includes round trip, coach-class air transportation for two (2) from a major airport near winner's home to Baja California, MX (departure and arrival airport determined by Sponsor in its sole discretion); four (4) nights' lodging (both hotel and "glamping") all details determined by Sponsor in its sole discretion (single room/tent, double occupancy); a ground transportation throughout the trip, multiple water and land activities, such as hiking, surfing, stand-up boarding, kayaking, yoga, and site seeing in the City of La Paz; and meals each day. Each winner and guest will be provided Athleta apparel for each day of the trip. Details about the apparel will be provided to each winner. Apparel will not include sleep wear or undergarments. Winner will also receive a check for $2,800 to assist with the tax liability associated with accepting the prize. Winner must travel on the dates stated above or prize will be forfeited. Trip must be booked immediately after winner is confirmed. Winner and travel companion must have all required documents, including a valid passport permitting travel to Mexico for the dates of this trip. Travel and accommodations are subject to availability. Travel must be round trip. Sponsor will determine airline and flight itinerary in its sole discretion. No refund or compensation will be made in the event of the cancellation or delay of any flight. Sponsor is not responsible for any issues relating eligibility to return to the United States. Travel is subject to the terms and conditions set forth in this Contest, and those set forth by the Sponsor's airline carrier of choice as detailed in the passenger ticket contract. All expenses and incidental travel costs not expressly stated in the package description above, including but not limited to, ground transportation, meals, incidentals, gratuities, passenger tariffs or duties, airline fees, surcharges, airport fees, service charges or facility charges, personal charges at lodging, security fees, taxes or other expenses are the responsibility solely of winner. Travel companion must be at least eighteen (18) years of age or older as of the date of departure and must travel on same itinerary and at the same time as the winner. If winner is a minor in his/her state of residence, travel companion must be winner's parent/legal guardian. Travel companion must execute liability/publicity releases prior to issuance of travel documents. Travel restrictions, conditions and limitations may apply. Sponsor will not replace any lost, mutilated, or stolen tickets, travel vouchers or certificates. Approximate Retail Value of the prize (trip, apparel, additional check): $11,435. Actual value may vary based on airfare fluctuations and distance between departure and destination. Winner will not receive difference between actual and approximate retail value. Prize is non-transferable and no substitution will be made except as provided herein at the Sponsor's sole discretion. Sponsor reserves the right to substitute the prize for one of equal or greater value if the designated prize should become unavailable for any reason. Winner is responsible for all taxes and fees associated with prize receipt and/or use.
10. Release:
By receipt of any prize, each winner agrees to release and hold harmless the Sponsor, Polygiene, Inc., Women's Quest, Inc., Administrator, and their respective parent companies, subsidiaries, affiliates, suppliers, distributors, advertising/promotion agencies, and prize suppliers, and each of their respective parent companies and each such company's officers, directors, employees and agents (collectively, the "Released Parties") from and against any claim or cause of action, including, but not limited to, personal injury, death, or damage to or loss of property, arising out of participation in the Contest or receipt or use or misuse of any prize, including any related travel.
11. Publicity Acceptance of any prize shall constitute and signify each winner's agreement and consent that Sponsor and its designees may use the winner's name, city, state, likeness, photo, Submission, age, and/or prize information in connection with the Contest for promotional, advertising or other purposes, worldwide, in any and all media now known or hereafter devised, including the Internet, without limitation and without further payment, notification, permission or other consideration, except where prohibited by law.
Winner also agrees that Sponsor shall own the Prize Footage and that Sponsor, and its respective designees, assigns and licensees shall have the right to edit, exploit, adapt, distribute, post, create derivative works of, and otherwise use the Prize Footage, in whole or in part, and in combination with other materials, in any manner, for any advertising, promotional, trade, commercial or other purposes in any and all media, now or hereafter devised, worldwide in perpetuity, without further payment or consideration, notification or permission.
12. General Conditions:
Sponsor reserves the right to cancel, suspend and/or modify the Contest, or any part of it, if any fraud, technical failures, human error or any other factor impairs the integrity or proper functioning of the Contest, as determined by Sponsor in its sole discretion. If terminated, Sponsor may, in its sole discretion, determine the winners from among all non-suspect, eligible Submissions received up to time of such action using the judging procedure outlined above. Sponsor, in its sole discretion, reserves the right to disqualify any individual it finds to be tampering with the Submission process or the operation of the Contest or to be acting in violation of the Official Rules of this or any other promotion or in an unsportsmanlike or disruptive manner and void all associated Submissions. Any attempt by any person to deliberately undermine the legitimate operation of the Contest may be a violation of criminal and civil law, and, should such an attempt be made, Sponsor reserves the right to seek damages and other remedies (including attorneys' fees) from any such person to the fullest extent permitted by law. Sponsor's failure to enforce any term of these Official Rules shall not constitute a waiver of that provision.
13. Limitations of Liability:
Released Parties are not responsible for: (1) any incorrect or inaccurate information, whether caused by entrant, printing, typographical or other errors or by any of the equipment or programming associated with or utilized in the Contest; (2) technical failures of any kind, including, but not limited to malfunctions, interruptions, or disconnections in phone lines or network hardware or software; (3) unauthorized human intervention in any part of the Submission process or the Contest; (4) printing, typographical, technical, computer, network or human error which may occur in the administration of the Contest, the uploading, the processing or judging of Submissions, the announcement of the prizes or in any Contest-related materials; (5) late, lost, undeliverable, damaged or stolen mail; or (6) any injury or damage to persons or property which may be caused, directly or indirectly, in whole or in part, from entrant's participation in the Contest or receipt or use or misuse of any prize (including any travel/activity related thereto). Released Parties are not responsible for misdirected or undeliverable Submissions or for any technical problems, malfunctions of computer systems, servers, providers, hardware/software, lost or unavailable network connections or failed, incomplete, garbled or delayed computer transmission or any combination thereof. Released Parties are not responsible for any unauthorized third-party use of any Submission.
14. Disputes:
Except where prohibited, each entrant agrees that: (1) any and all disputes, claims and causes of action arising out of or connected with this Contest or any prize awarded shall be resolved individually, without resort to any form of class action, and exclusively by the United States District Court for the Eastern District of Michigan (Southern Division) or the appropriate Michigan State Court located in Oakland County, Michigan; (2) any and all claims, judgments and awards shall be limited to actual out-of-pocket costs incurred, including costs associated with entering this Contest, but in no event attorneys' fees; and (3) under no circumstances will entrant be permitted to obtain awards for, and entrant hereby waives all rights to claim, indirect, punitive, incidental and consequential damages and any other damages, other than for actual out-of-pocket expenses, and any and all rights to have damages multiplied or otherwise increased. All issues and questions concerning the construction, validity, interpretation and enforceability of these Official Rules, or the rights and obligations of the entrant and Sponsor in connection with the Contest, shall be governed by, and construed in accordance with, the laws of the State of Michigan without giving effect to any choice of law or conflict of law rules (whether of the State of Michigan or any other jurisdiction), which would cause the application of the laws of any jurisdiction other than the State of Michigan.
15. Entrant's Personal Information:
Information collected from entrant is subject to Sponsor's Privacy Policy and Administrator's Privacy Policy.
16. Winner List:
For a winner list, visit bit.ly/2kul5oB. The winner list will be posted after winner confirmation is complete.
© 2017 HelloWorld, Inc. All rights reserved.
You might also like
With Sculptek Light fabric, a no-flip waistband, and four pockets, we knew our Up For Anything Tight could stand strong for different kinds of workouts, so we set out to test it. We connected with real customers to see if they wanted to participate in an Athleta tights wear test. Our eager group of eight…

Laura doesn't just work at Athleta, she lives and breathes the mission as a PR and Partnerships Manager and instructor at our in-office Fit Studio. She says she loves everything about working at Athleta, especially that "the work that we do is so inspiring and purposeful, that after a long day, I walk out of…

To help prove our new Up For Anything Tight is the right fit for any new adventure, we challenged our community to slip on a pair and show us how they're up for anything. Avid runners took a leap onto the monkey bars for the first time, inversion-averse ladies went head over heels in handstands,…