How to Wear Street Tights: Tips from a Stylist
If you've ever found yourself wondering, 'Can I wear tights to [INSERT EVERY EVENT YOU ATTEND HERE]?' you're in luck. In this post, expert stylist Alex Merrell shares some tips on how to wear Street Tights (so you can wear them just about anywhere).
With the holiday season already upon us, some sort of travel is inevitable (for better or worse)…
The flexibility of styles in Athleta's Street Tights makes them the perfect companion for all events during your holiday travels. They will take you from the confines of your car or plane ride, to a last min shopping spree, or your friend's annual holiday party that you've been looking forward to all year!
LOOK 1: THE ROAD TRIP LOOK
The number one rule I have for my travel outfits is comfort. The second is that they have to have a "cool factor." The Ponte Luxe tight is the perfect combination of the two! Being leggings, these pants make sitting in a car or on a plane for 8 hours bearable and the faux leather inserts, give my outfit some edge. I usually stick with breathable fabrics in darker colors, like the Daily Tee in black, when I travel because they tend to hide the evidence that I have been in a car or on a plane for hours. Pairing the tights with lightweight layers like the Lumberjill Flannel and Cashmere Aspen Wrap, also allows me to create my own temperature controls. It always seems to be too hot or too cold when I travel. The Conquest Wedge Boot by Sorel, is similar to the Ponte Luxe tight in its ability to be comfortable and yet have the "cool factor." Simple accessories, like the scarf, creates an added touch that brings the whole outfit together. It shows observers that you know your way around fashion.
Hover over the image below to shop my Road Trip Look.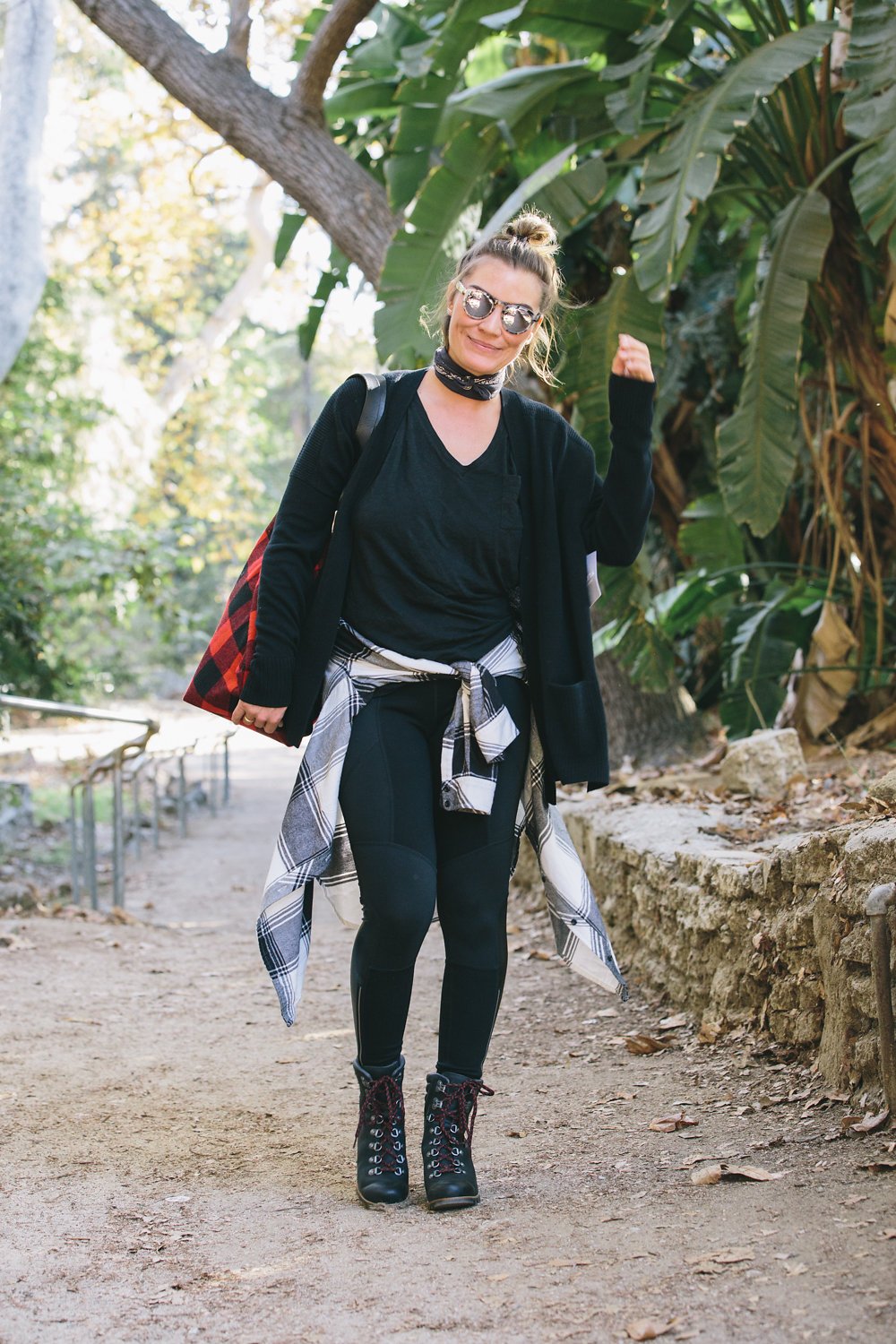 Look 2: The 'I Didn't Try' Look
Last-minute shopping is stressful already and the last thing I want to think about is what to wear. The stylist in me, however, says that I still have to look fashionable. The High Rise Mesh Tux Chaturanga tight creates a perfectly simple starting point to an easy yet stylish outfit. Pairing them with added layers gives them that chic yet "I didn't try" type of look. The length of the Merino Mesa Hoodie is my favorite part of its design. Long coats instantly elevate an outfit as does multiple layers. Which is why I added the Big Sky Scarf over the coat. When it comes to choosing my shoes, I need to make sure that they work with and without my added layers. The texture and print of the "snakeskin" boots provides the perfect amount of print mixing within my layered look. They also pair well with the blouse (try the Long and Lean Shirt in white) and the High Rise Mesh Tux Chaturanga tight as a look. I love the combination of black, white, navy colors and the touch of mesh in the tights.
Hover over the image below to shop my 'I Didn't Try' Look.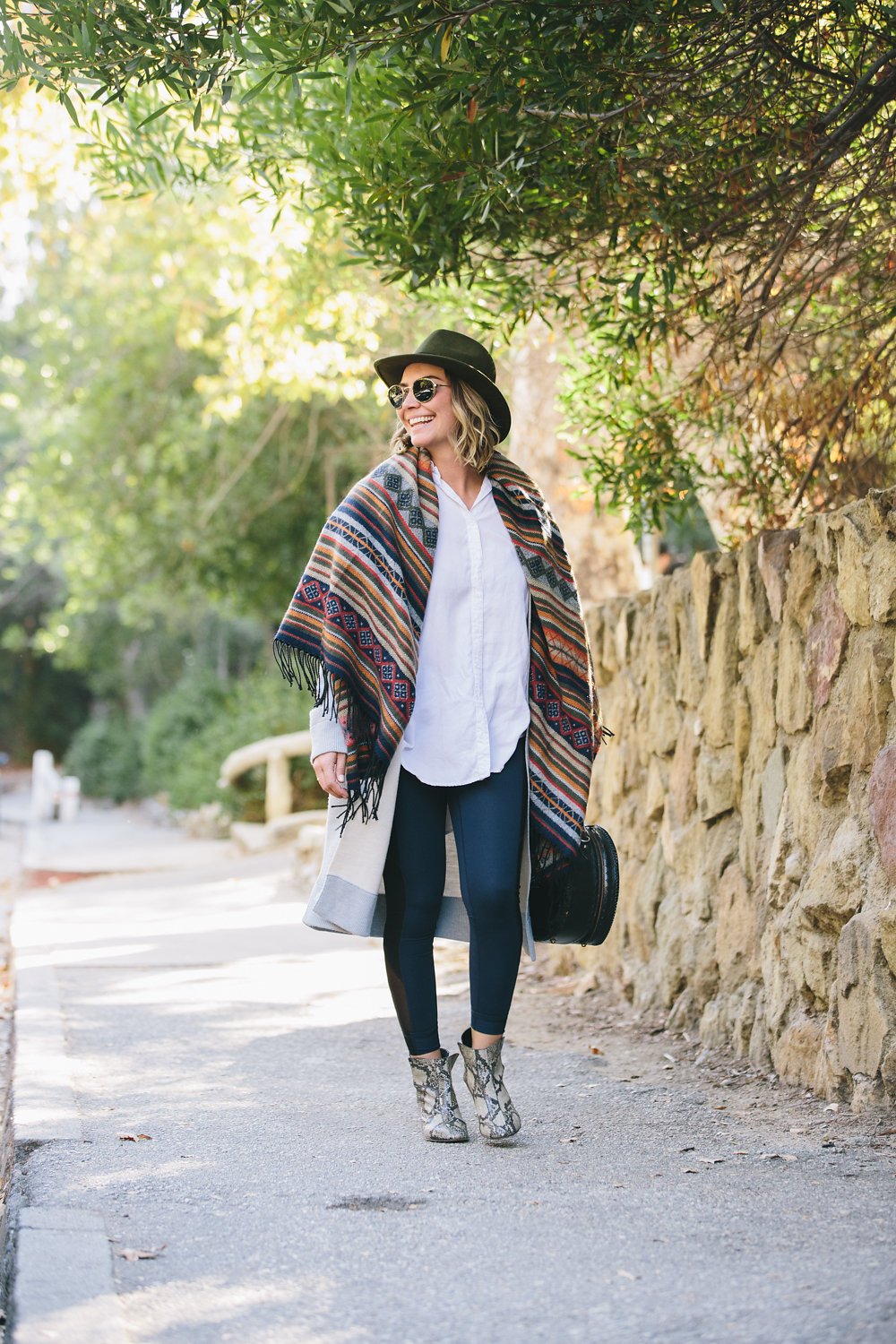 Look 3: The Party Look
Dressing up for a holiday party doesn't have to mean putting on a dress. The Tux Metro tight has a stylish faux leather front that gives them the perfect amount of dressy vibes. Pairing these with your favorite holiday top, like the Merino Lodge Sweater, will make all your friends jealous of how cute (and comfortable) you are! The Merino Lodge Sweater, is really soft and not too hot to wear indoors. I also love the fact that it is on trend with its turtleneck neckline. Adding a pair of earrings helps bring the holiday look together. Not to mention, adding heels. My patent leather heels pairs well with the Tux Metro, adding a more classic element to the tights faux leather design details. However, those design details, also give opportunity to spice things up with a pop of color in your heels. Try red, or a metallic if you want to give your outfit a pop!
Hover over the image below to shop my Party Look.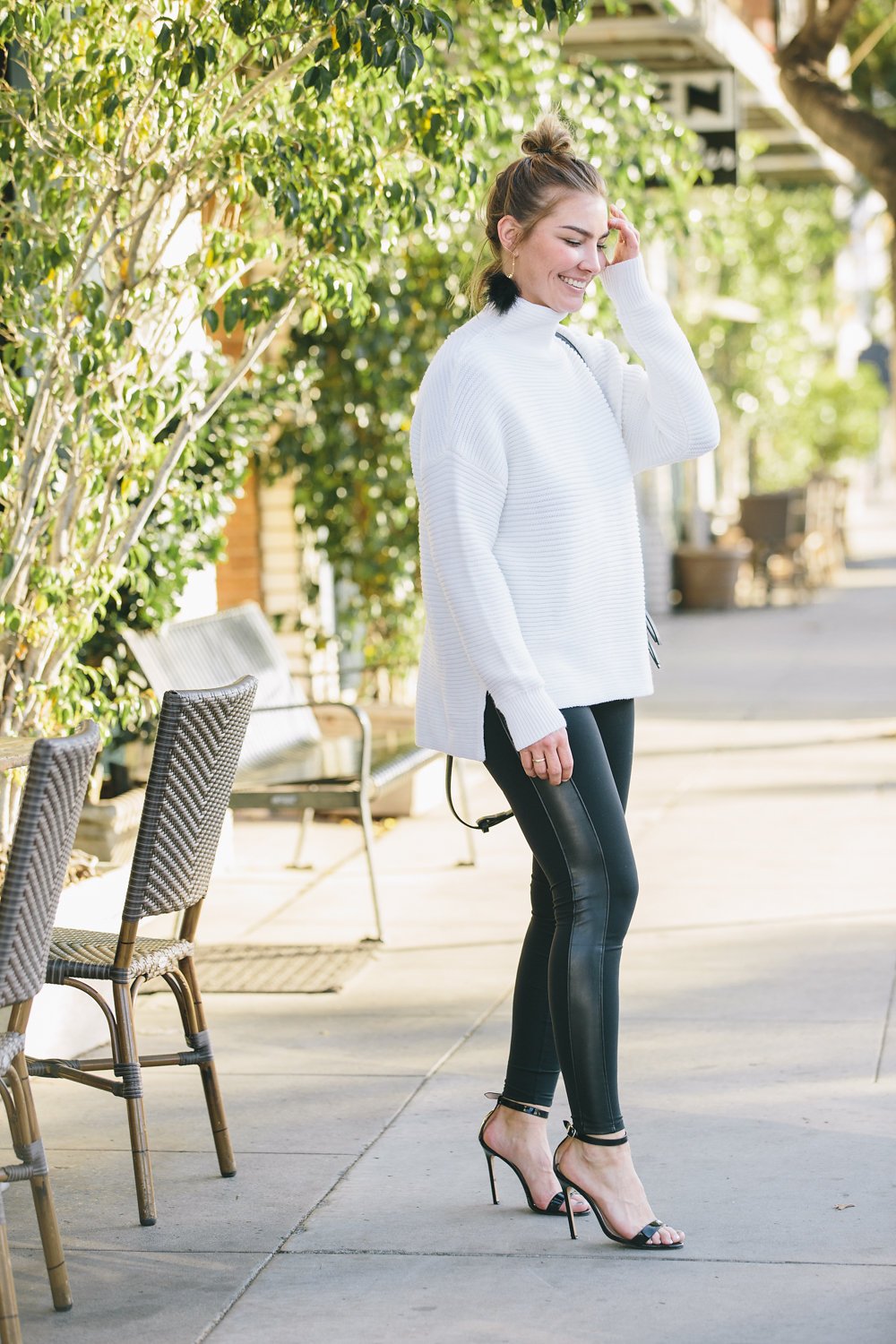 No matter what this holiday season brings, Athleta's street tights, are THE go-to wardrobe staple for creating stylish AND comfortable outfits.
SHOP ALL STREET TIGHTS AT ATHLETA.COM.